When you're planning your wedding, it's important to find a hairstyle that will make you look and feel like the best version of yourself on your big day. But with so many options out there, it can be tough to know where to start. That's why we recommend starting with a trial run for your wedding hair. This way, you can get an idea of what styles might work for you and narrow down your choices before the big day. Plus, it's a great opportunity to get to know your stylist and make sure they understand your vision for your wedding hair. Ready to find the perfect style for you? Keep reading for our top tips on how to rock a wedding hair trial…
Everything you need to know about wedding hair trials
Your wedding day is one of the most important days of your life, and you want everything to be perfect. That includes your hair. Getting a wedding hair trial is a great way to ensure your wedding hair is exactly what you want.
A wedding hair trial gives you the chance to work with your hairstylist to come up with the perfect look for your big day. You'll be able to try out different styles and see what works best with your dress, veil, and accessories. And, perhaps most importantly, you'll be able to get a feel for how your hairstyle will look and feel on the day of your wedding.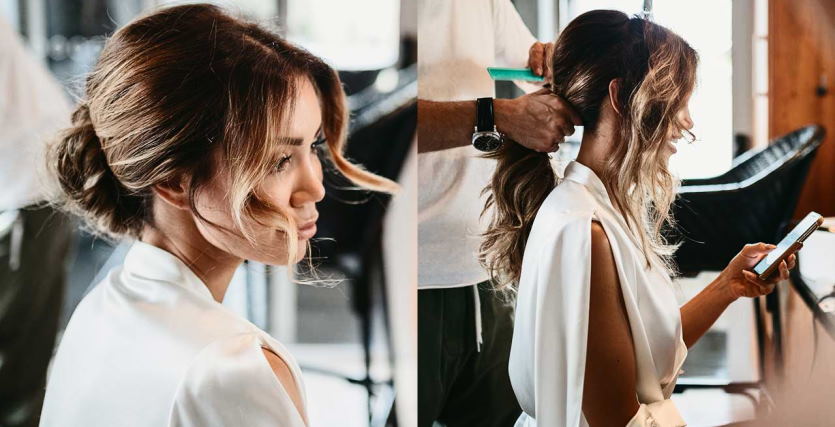 If you're not sure where to start when it comes to planning your wedding hair trial, here are a few tips:
Schedule your trial several months in advance. This will give you plenty of time to experiment with different styles and looks. And, if you need to make any changes or adjustments, you'll have time to do so before your big day.
Bring photos of hairstyles you like. This will help your stylist understand the kind of look you're going for. It's also a good idea to bring along photos of your dress and veil so that your stylist can get an idea of how your hair will need to be styled to complement your overall look.
Be open to trying new things. Your wedding hair trial is perfect for experimenting with new styles and looks. So, even if you're unsure about a certain style, don't be afraid to try it. You may be surprised at how much you like it!
Be prepared to spend some time on your trial. Depending on the length and thickness of your hair, your trial could take several hours. So, ensure you have enough time to get the look you want.
Relax and enjoy yourself! Your wedding hair trial should be a fun and relaxing experience. After all, it's all about finding the perfect hairstyle for your big day. So, take your time, try out different styles, and enjoy yourself!
Mastering the perfect wedding hair trial: a step-by-step guide
When it comes to your wedding day, there's nothing more important than feeling confident and beautiful. And while you may have a clear vision for your perfect hairstyle, nailing it down can be a bit tricky. We've put together this step-by-step guide to help you master the perfect wedding hair trial.
Do your research
Before your hair trial, it's important to do your research and collect some inspo. Pinterest is a great place to start, but don't be afraid to tear out pictures from magazines or save images from your favorite bloggers. The more specific you can be with your inspiration, the better. This will give your stylist a clear idea of the kind of look you're going for.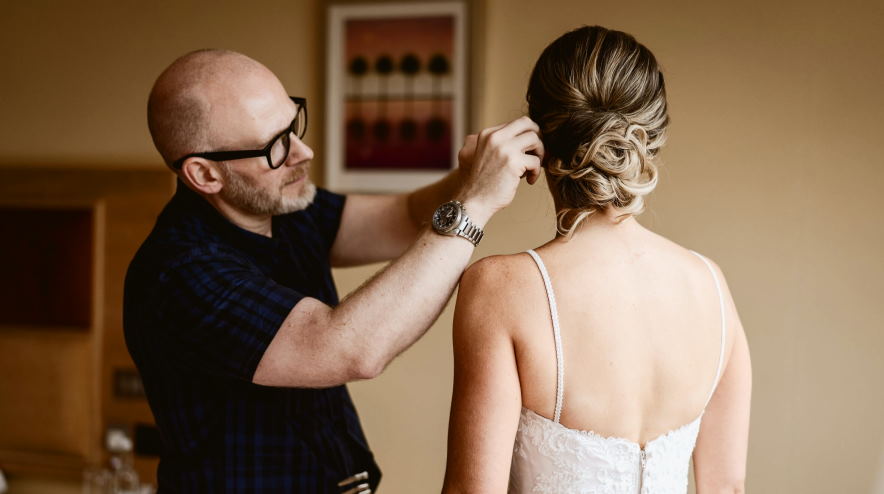 Schedule your trial early
Once you have an idea of the style you want, it's time to schedule your hair trial. We recommend doing this at least 2-3 months before your big day, so you have plenty of time to make any necessary changes. This will also help ensure that your stylist is available on your wedding day.
Bring all the right accessories
Bring all the right accessories to your hair trial to get the most accurate representation of your final look. This includes things like veils, headpieces, and hairpins. If you're unsure what kind of accessories you'll wear on your big day, now is the time to start shopping around.
Be open to changes
Even if you have a specific style, it's important to be open to changes. Your stylist may have some great suggestions that you hadn't considered before. And keep in mind what looks good in a picture may not necessarily work with your hair type or face shape. Trust your stylist and be open to trying new things.
Take pictures
Once your trial is complete, take plenty of pictures from different angles. This will help you visualize how your hair will look on your wedding day and make it easier to communicate any changes you may want to make.
Make any necessary changes
If you're not completely happy with your hair trial, don't worry. This is normal! Just communicate any changes you want to make to your stylist. They can adjust your style and help ensure you love your final look.
With these tips in mind, you'll be well on nailing the perfect wedding hair trial. So relax, enjoy the process, and trust that your stylist will help create the vision you have for your big day.