Glittering rhinestone hair accessories are the perfect way to add glamour to your wedding look. They can be used to accentuate an updo or adorn a simple hairstyle, and they come in various shapes and sizes to suit any bride's taste. So whether you're looking for a subtle sparkle or want to go all out with glittering accents, a rhinestone hair accessory is perfect. Read on for tips on choosing and wearing these glamorous pieces.
Make your wedding extra special with sparkling rhinestone hair accessories
For many brides, their wedding day is their most important and special day. It is a day when they want to look their absolute best. And what better way to achieve a glamorous look than by accessorizing with glittering rhinestone hair accessories?
Rhinestone hair accessories come in various styles, from simple and understated to over-the-top and dramatic. So whether you are looking for a tiara, hairpins, headband, or even a whole rhinestone-encrusted veil, there is sure to be an accessory that will suit your taste and style.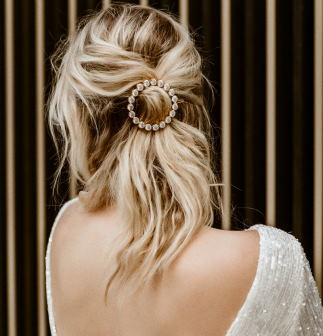 When choosing the right rhinestone hair accessory for your big day, it is important to consider the overall theme or style of your wedding. For example, if you are having a traditional wedding, a tiara or headband with understated rhinestones would be more appropriate than a dramatic and sparkly hairpiece.
On the other hand, if you have a more modern or unique wedding, you may want to go for a more statement-making piece like an elaborately decorated veil or headdress. Whichever route you decide to take, ensure that your chosen accessory complements the overall look you are going for on your big day.
There are no hard and fast rules when it comes to wearing rhinestone hair accessories. However, there are a few general tips that you may want to keep in mind. First, if you are wearing a tiara or headband, secure it well, so it doesn't slip during the ceremony or reception.
Second, if you plan on wearing multiple hair accessories, try to balance them out by wearing one on each side of your head. This will help to create a more symmetrical look. Lastly, don't be afraid to experiment with different styles and looks until you find the perfect combination that works for you.
With so many beautiful and glamorous rhinestone hair accessories to choose from, there is no reason why you can't create a stunning wedding look that is truly your own. So start shopping around today and find the perfect accessory to help you achieve the look you have always dreamed of.
Ways to accessorize your wedding hairstyle with rhinestone wedding hair accessories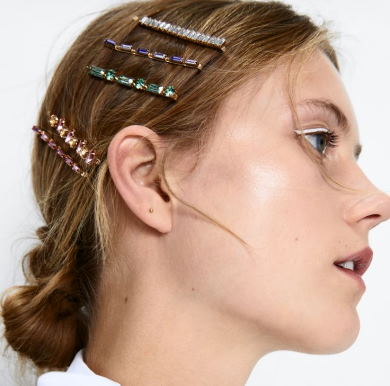 Rhinestone wedding hair accessories are the perfect way to add a touch of glamour and sparkle to your wedding hairstyle. From delicate headbands and combs to sparkling hairpins and clip-on earrings, there is a rhinestone wedding hair accessory to suit every bride.
Choose a rhinestone headband or comb that matches your bridal gown for a classic and elegant look. If you're looking for something a little more fun and funky, try adding some colorful clip-on earrings or hairpins to your updo. And don't forget about your bridesmaids! They can also wear matching or coordinating rhinestone hair accessories to complete the look.
No matter what your wedding hairstyle is, there is a rhinestone hair accessory that will help you create the perfect look. So start shopping today and find the perfect finishing touch for your big day!