It's no secret that brown eyes are absolutely gorgeous. And when it comes to wedding eye makeup, there are so many beautiful looks you can create! Here are a few of our favorite ideas for stunning eye makeup looks if you have brown eyes. Whether you're going for a classic and timeless look or something bold and modern, we've covered you. So grab your makeup bag, and let's get started!
Make your brown eyes pop with these stunning wedding eye makeup ideas
When it comes to wedding eye makeup, there are endless possibilities. The right makeup can make your eyes stand out, whether you want a natural look or something more dramatic.
If you have brown eyes, there are some great ways to make them pop. You can make your brown eyes stand out with the right shades of shadow and liner. Here are some stunning wedding eye makeup ideas for brown eyes:
Go for a smoky eye
A smoky eye is always a classic choice for weddings. It's a great way to add drama to your look without going over-the-top. To create a smoky eye, start by applying a dark shadow to the outer corner of your eye. Then, blend the shadow inward. You can also use a dark pencil liner to create a smoky effect.
Try a nude look
A nude look is always a beautiful choice if you want something a little more understated. First, apply a light shadow all over your lid for this look. Then, add a slightly darker shade to the crease of your eye. Finally, finish things with some mascara, and you're good!
Go for bold eyeliner
If you want your eyes to stand out, try wearing bold eyeliner. A thick cat eye is always a great choice for weddings. You can also try winged liner or any other creative liner design.
Add some sparkle
Try adding sparkle to your wedding eye makeup for a truly unique look. A little bit of glitter or shimmer can make your eyes pop. Just be sure to use a light hand, so you don't look like a disco ball!
Experiment with colors
Don't be afraid to experiment with different colors for your wedding eye makeup. If you have brown eyes, there are endless possibilities. You can go for a classic smoky eye or try something unexpected, like a pop of color on the lid. Have fun and experiment until you find a look that you love!
Stunning wedding eye makeup ideas for darker complexions
There are so many different ways to make your eyes stand out when it comes to wedding makeup. If you have a darker complexion, you might want to consider some stunning wedding eye makeup ideas that can help you make a statement.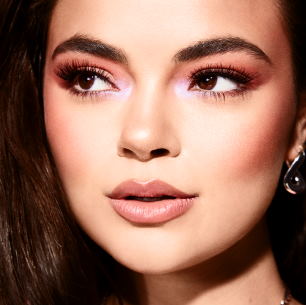 One of the best things about having a darker complexion is that you can experiment with bolder and brighter colors without looking too over the top. For example, a nude or light pink eyeshadow would be perfect if you want a more natural look. You could also try a smokey eye if you're daring – this will make your eyes stand out in all the photos!
Another great option for wedding eye makeup is false lashes. They can help to open up your eyes and make them look bigger and more dramatic. But, of course, if you're unsure how to apply false lashes, you could always get them done professionally before the big day.
If you're looking for something a little more unique, why not try bright colored eyeliner? This can help make your eyes stand out and look amazing in photos. You could even go for a glittery or metallic eyeliner if you want to add some extra sparkle to your wedding makeup look.
Whatever style of wedding eye makeup you choose, ensure that you experiment beforehand to be happy with the final look. And don't forget to take some pictures to show your makeup artist exactly what you're looking for on the big day!